About Us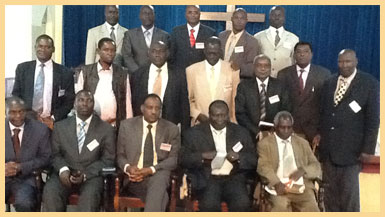 Full Gospel Churches of Kenya ( FGCK ) was founded in 1949 in Kisumu District by Missionaries from Finland. The partnership and relationship between FGCK and Fida international of Finland continue to grow in strength over the years. Fida International has a development partnership to support the development work of the church as detailed in the projects. There are other organizations from USA and Australia that are working with FGCK too.
Since then, FGCK has expanded to include all counties other that Mandera and Wajir where we have a fellowship only. The church membership is estimated at slightly over a million members' country wide.
The church is divided into 12 administrative unites called Regions. In turn there are 87 districts, over 630 Local Church Assemblies and many branches that is led by over 5000 pastors. The national office is managed by the National Pastoral Council through NEC who are also the office bearers of NPC. The highest decision making body is the National Pastoral Council (NPC) comprised of all senior Pastors and above.
NEC is the executive arm of NPC. The NPC meet two times in Annual general meeting (annually though a special AGM could be called by the chairman if an issue of national importance must be addressed.
VISION
The vision of the church is:-
To be a dynamic church of God fearing believers, who know Jesus Christ intimately and are holistically transformed and who reach out to all people with the Gospel of Jesus Christ
MISSION
The Church mission is thus to;
To preach the gospel of Jesus Christ in the power of the holy Spirit
To make disciples of all who believe the gospel
To establish Local Church Assemblies;
To Provide diaconal services to the disciples and the community
To equip the members with knowledge and skill to serve the Lord Jesus Christ
To build church capacity and mobilize resources that will facilitate the attainment of the afore mentioned mission objectives.