Empowering Maasai Girls and their Communities Project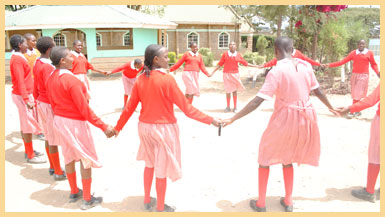 Empowering Maasai Girls and their Communities project is subsidiary project of Full Gospel Churches of Kenya Development Project (FGCKDP). The project area of operation is Loita and Mara area in Narok County. The project offices are located in FGCK Maisha Poa Building in Narok Town along Narok-Bomet Road.
The purpose of the project is to advocate for the rights of Maasai girls and impact communities for change from harmful cultural practices and embrace progressive culture. Women and girls in the Maasai communities are marginalized and their human rights violated through some harmful cultural practices like Female Genital Cut (FGC) and Early Forced Marriages (EFM). These cultural practices have disadvantaged girls in terms of accessing education and later as mothers it complicates their reproductive health. Young boys are either not in school or drop out to join moranism while other cultural practices predispose the community to HIV and AIDS.
Local FGCK in Narok started a rescue home for these girls in 1999. However, only few girls can be rescued to the centre while many girls silently continue to suffer the effects of harmful cultural practices. Fida International is partnering with FGCK in addressing these harmful cultural practices through the Alternative Rite of Passage (ARP) approach in Narok County and later on other areas in Kenya that practice FGM and EFM. This is aimed at transforming the community so as to shun away harmful culture and embrace progressive cultures. This is intended to empower the community to solve their own problems at the community.
The project is working with different churches in Narok County in reaching the community. The churches identify people who are influencial and they are trained by the project as FGC and ARP Trainers. The trainers organize ARP training in their churches for girls between 9 and 14 years three times a year during school holidays. A girl attends 3 trainings in April and August and December when they graduate and are given certificates as an indication of graduating from childhood to adulthood. During the graduation parents, community leaders, church leaders and politicians are invited to grace the occasion. Boys also join them in the graduation and are also given same certificates after undergoing male circumcision and training on life skills and relevant topics related to boys and girls and how to be responsible in life.
The project is also targeting boys and girls in schools where they are trained on harmful cultural practices, Children Rights, Harmful effects of FGM, importance of education and ARP. The project also organizes seminar for community leaders where issues violating human right of the girl and women are discussed.
So far more than 100 girls have been rescued and taken back to school where some are in university and colleges and others are in secondary and primary schools. The project is partnering with Fida International, The Smallest Seed, Ireland Global Missions, Government of Kenya, World Vision (Narok), World Challenge (USA), Time Square Church (USA) and Kingdom Life Ministries (USA). Fida sponsoring the girls for secondary education and building the capacity of the partner to work in the community and implement the ARP while TSS sponsor girls for college/university education. Other partner sponsorship is not very specific but assists in one way or another.
The status of girls and women in the Maasai community and later other target communities is expected to improve through reduced cultural maltreatment and access to education. The capacity of the partner in addressing FGM and EFM through ARP will also improves through the project. This will have impact since development work will be strengthened, and changes in the attitudes and practices of Maasai communities and other target communities will take place.
You can be a partner in this noble course through you financial or material support.
Contact Person:
Sammy M. Mutisya
Mobile: +254 722 694 583
Email: mutisyasm04@yahoo.com